Simulation of a Ducted Mock-Mirage Sunset: Disappearance
Introduction
Here's an enlargement of the final 96 seconds of the ducted mock-mirage sunset. The main feature of this ducted mock-mirage finish is the line with red-orange center and green tips — features that are very well shown in the photographs published by Taylor and Matthias (1969).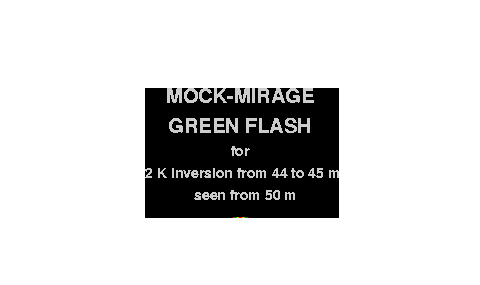 There isn't much to see here — just a red-and-green line that grows steadily shorter, with the green steadily eating into and finally overwhelming the red. This line is an enormously compressed image of part of the Sun, barely visible above the top of the duct.
In reality, the large airmass at the end of this sunset would normally have removed the green light entirely; you'd see only a red line that finally shrinks to a dot and vanishes. The green is visible in the Taylor-Matthias pictures because they were taken at very great elevation, where the extinction is much smaller.
Amazingly, this kind of sunset was photographed by John McKune in Libya on March 28th, 2006. You can see his astonishing pictures on Les Cowley's website. He's finally captured the features of this simulation that I made back in 1999.
---
© 1999 – 2009 Andrew T. Young
---
Back to the introduction to ducting
---
Back to the GF home page